Crockpot Italian Chicken and Broccoli Rabe Chili
Switch things up with this Italian-inspired gluten-free chili for a warm & cozy cold weather meal!
Recipe by Tieghan Gerard
Tieghan is the author of Half Baked Harvest, the Readers' Choice for Most Inspired Weeknight Dinners at the 2016 Saveur Blog Awards, as well as the winner of the 2016 Better Homes & Gardens Reader's Choice Award for Favorite Food Blog. Her cookbook, The Harvested Table, will be published by Clarkson Potter in the Fall of 2017. She is a regular contributor at the Huffington Post and Buzzfeed.

Ingredients
3 Lbs. boneless, skinless chicken thighs or breasts

1 Small sweet onion, diced

3 Cloves garlic, minced or grated

2 Tbsp. chili powder

1 Tbsp. dried oregano

2 Tsp. smoked paprika

2 Tsp. dried thyme

¼ Tsp. allspice

¼-½ Tsp. crushed red pepper flakes

1 Dried bay leaf

1 Tsp. salt + pepper, or to taste

One 6 oz. can tomato paste

4 Cups low sodium chicken broth

½ Cup balsamic vinegar

1 Large bunch broccoli rabe, ends trimmed and roughly chopped

One 12 oz. jar roasted red pepper, sliced

One 15 oz. can cannellini beans, drained and rinsed

1 Cup freshly grated Parmesan cheese, plus more for serving

½ Cup chopped parsley, plus more for serving
Directions
1. In the bowl of a 6-8 quart crockpot pot, add the chicken, onion, garlic, chili powder, oregano, paprika, thyme, allspice, crushed red pepper flakes, bay leaf, salt and pepper. Add the tomato paste, chicken broth and balsamic vinegar. Give everything a gentle stir to combine. Cover the crockpot and cook on low for 6 to 8 hours (or 4-6 hours on high) stirring once or twice if possible.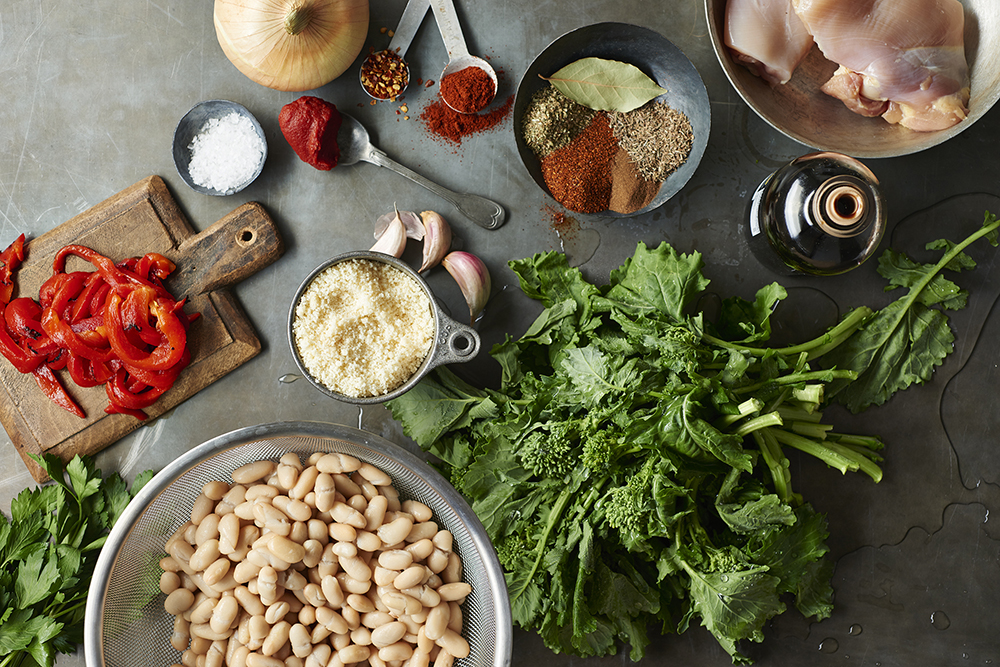 2. During the last 30 minutes of cooking, stir the broccoli rabe, roasted red peppers and cannellini beans together and add to the crockpot. Crank the heat up to high, cover and let cook 20-30 minutes longer.
3. Lightly shred the chicken with two forks; it should just fall apart. Stir in the parmesan and parsley.
4. Ladle the soup into bowls and serve with parmesan + crusty bread for dipping.
*If you prefer, you may add the broccoli rabe in the beginning of the cooking, but just know it will be cooked down a bit more. It's still delicious this way, it just has a little less firmness to it.
Get the scoop on Broccoli Rabe: recipes, health benefits, & nutrition information. Learn more