Crispy Broccoli Rabe and Goat Cheese Cigars
Directions
1. Preheat the oven to 375°F. Line two baking sheets with parchment paper.   
2. Make the filling: in a large sauté pan, melt the butter over medium heat. Add the leeks, and reduce heat to medium low. Add the salt and pepper and sauté until the leeks are very soft and "melted". Let cool for 5 minutes.
3. In a food processor, pulse the broccoli rabe, olive oil, orange zest, mint, and parsley to combine. Add the cooled leeks and puree until as smooth as possible. Add the goat cheese and puree until uniformly combined. (Note: you can use the filling like this and spoon it onto the phyllo for assembly, or you can transfer it to a disposable piping bag or a gallon-sized plastic bag and cut a 1/2" opening from the corner.)
4. Open the phyllo dough and unfurl it. Cut the dough in half (you're aiming for rectangles about 6 x 8" long, but exact size may vary based on brand of dough). Cover the dough with a lightly damp, clean kitchen towel so it doesn't dry out while you assemble the cigars.
5. Make a cigar: place one sheet of cut phyllo on your work surface, with one of the shorter sides facing you. Brush the dough all over (but lightly) with melted butter, and top with another piece of dough, and brush it all over with butter, too.
6. Scoop (or pipe) about 2 1/2 tsp of filling into a line on top of the dough, closest to the side closest to you. Fold the outside pieces of dough inward, then roll up the dough around the filling to make a cigar shape (a lot like rolling a burrito).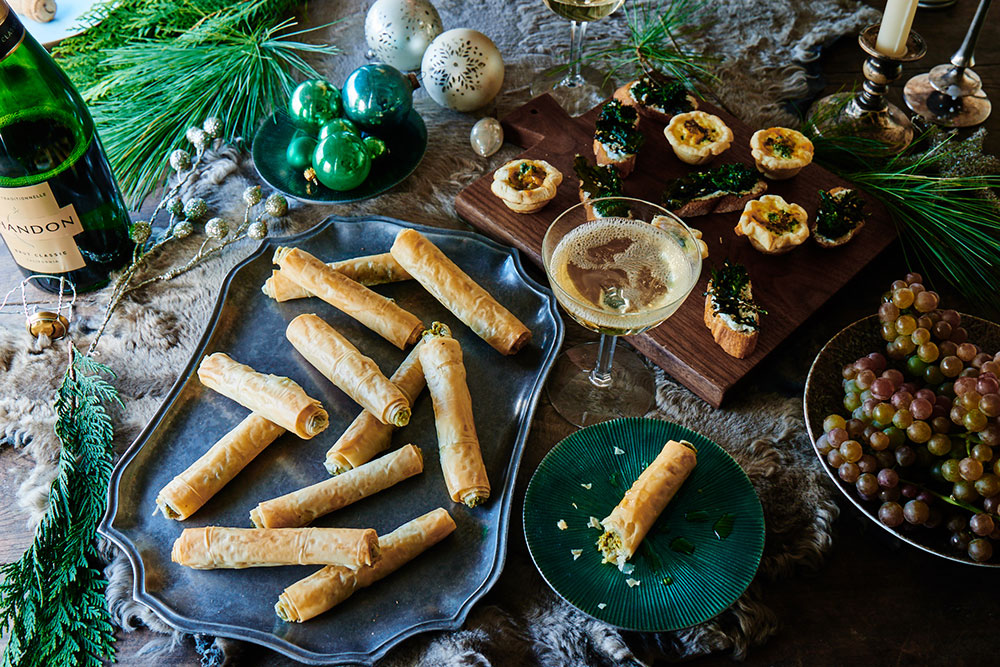 7. Repeat with the remaining dough and filling – ending up with about 2 dozen pieces. The cigars can be frozen at this point, to be baked later: line them up (close, but not touching) on parchment lined baking sheets and freeze until thoroughly chilled. The frozen cigars can then be stored in plastic freezer bags and baked right from the freezer.
8. Bake the cigars: transfer the cigars to the prepared baking sheets – they can be relatively close together, but they shouldn't be touching. Brush the tops of each piece with any remaining melted butter, sprinkle with salt, and bake until golden and crisp, 17-22 minutes (shorter if freshly made, longer if frozen).
9. Cool for at least 10 minutes before serving. Serve drizzled with hot honey to taste.
COOK'S NOTE:
If you can't find hot honey, you can substitute regular honey or you can add red pepper flakes to the honey to taste.
Get the scoop on Broccoli Rabe: recipes, health benefits, & nutrition information. Learn more
---