Broccoli Rabe Pesto Hummus Dip
Directions
1. Using a knife, trim stems off of broccoli rabe, leaving the leafy greens.
2. Add trimmed Broccoli Rabe to a large pot of boiling water, cook for about 2 minutes.
3. Transfer broccoli rabe to an ice-water bath until cool, and drain.
4. Add broccoli rabe, half of the toasted pine nuts, half of the minced garlic, and parmesan into a food processor and process until coarsely chopped.
5. Continue to process while drizzling in 1/3 cup extra virgin olive oil. Process until smooth.
5. Add dash of salt and optional red pepper flakes.
6. Pour pesto into a bowl and mix in remaining pine nuts, set aside.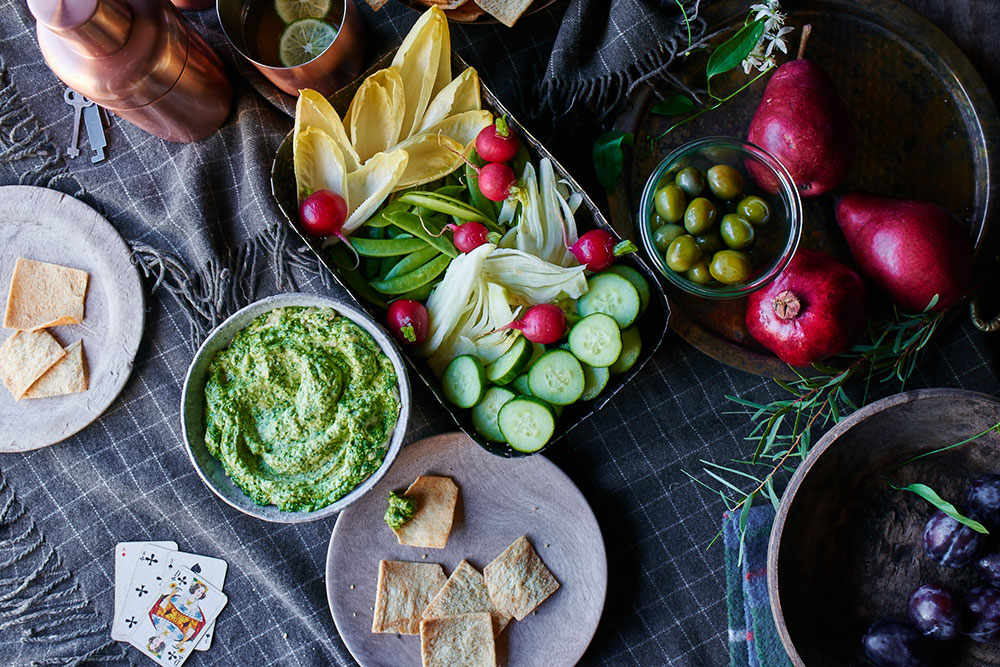 7. In a clean food processor, combine tahini and lemon juice and process until well combined, making sure to scrape the sides.
8. Add 3 Tbsp olive oil, remaining minced garlic, cumin, and dash of salt. Process to combine, about 2 minutes. Scrape bottom and sides and process for an additional 30 seconds.
9. Add half of the chickpeas and process for 1 minute. Scrape sides and bottom with spatula, add remaining chickpeas, and process until thick and smooth, about 1-2 minutes.
10. To obtain the desired consistency, while food processor is running, add 1-2 Tbsp water as needed.
11. Spoon hummus into medium sized bowl.
12. Top hummus with reserved pesto, mix if desired, and serve!
Get the scoop on Broccoli Rabe: recipes, health benefits, & nutrition information. Learn more
---