Broccoli Rabe Risotto
Directions
1. Pour the chicken broth into a medium pot and heat over medium heat. Once it's hot, you can remove the pot from the heat, but keep the broth warm.
2. Heat a medium pot over medium high heat. When the pot is hot, add the pancetta, and cook until the fat has rendered and the pancetta is golden and crisp, 4-5 minutes. Remove the pancetta from the pot, leaving the fat behind.
3. Add the olive oil to the pot, and reduce heat to medium low. Add the onions and sauté until they are translucent and very tender, 5-6 minutes. Add the garlic and sauté until fragrant, 1 minute more.
4. Add the rice to the pot and cook, stirring constantly, until the rice is lightly toasted (it won't brown, but should give a slightly nutty aroma), 1-2 minutes.
5. Add the wine and stir to combine. Cook, stirring occasionally, until the wine is mostly absorbed, 2-3 minutes.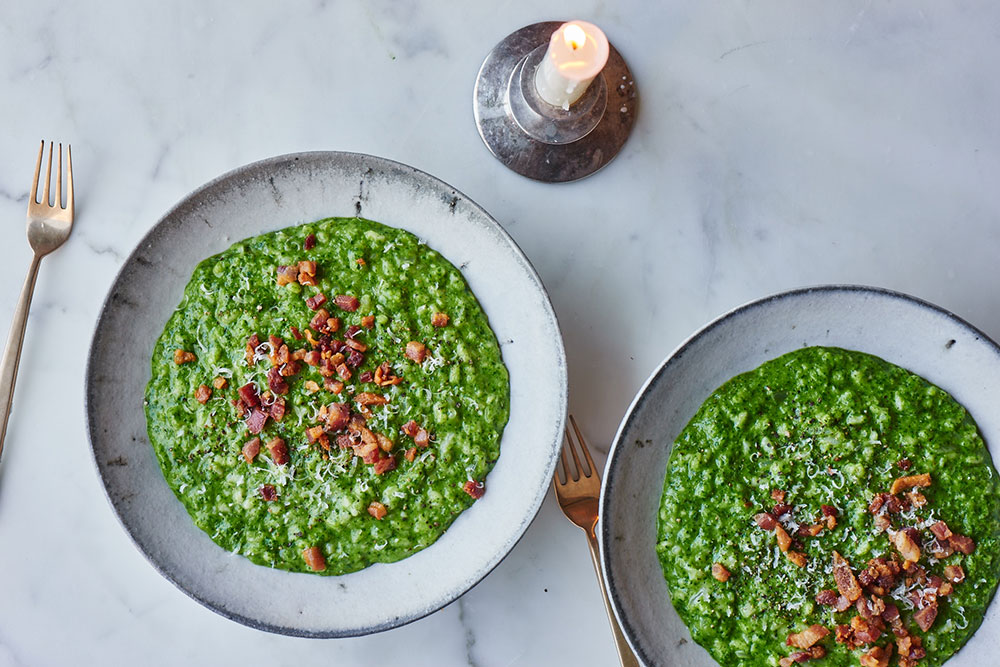 6. Begin adding the warm broth gradually – about 1 cup at a time. Add the broth, stir the mixture to combine, then let it simmer. Stir the pot as needed to prevent sticking, but you don't need to stir constantly – just keep a close eye on it so that when the broth has nearly absorbed, you can add another addition.
7. Continue to add broth to the pot, stirring occasionally, until the rice has absorbed all the liquid and is tender but still lightly toothsome.
8. While the risotto is simmering, make the puree: in a food processor, pulse the blanched broccoli rabe and chives until as smooth as possible. Add the olive oil and puree until very smooth (you can add a bit more oil, as needed/if necessary). Season the puree with salt and pepper.
9. Once all the liquid has been absorbed into the risotto, add the butter and stir vigorously to combine it (this vigorous stirring will encourage the starches in the rice to make the risotto extra creamy). Add the parmesan and do the same – stir vigorously to incorporate. Season the risotto with salt and pepper.
10. To serve, add the puree to the risotto and stir to combine – it looks best if you leave it somewhat swirly, but you can also opt to mix it fully in. You can do this in the pot, or on each individual serving. Garnish with the reserved pancetta and serve immediately.
Get the scoop on Broccoli Rabe: recipes, health benefits, & nutrition information. Learn more
---