Broccoli Rabe Stuffed Peppers with Pine Nut Parmesan
Directions
1. Drain and rinse the soaked quinoa well, and add it to a pot on the stove with the cup of filtered water. Bring to a boil, reduce to a simmer, and cover. Let cook until all of the water is absorbed (about 10 minutes, or a few longer). Remove the pot from the heat and leave covered to steam for an additional 10 minutes.
2. Preheat the oven to 400°F. Slice each bell pepper in half, remove the stem, and scrape out the seeds. Place the pepper halves on a parchment lined baking sheet with the cut sides facing up. Roast in the oven for 15 minutes.
3. While the peppers are roasting, trim the broccoli rabe so you are left with only the florets, leaves, and their soft stems (about 2 loosely packed cups worth). Break into bite size pieces and place in a heatproof bowl.
4. Bring a kettle of water to a boil on the stove and pour over the broccoli rabe. Let the rabe sit in the hot water for about 10 seconds, then drain well – squeezing out as much water as you can. Add the rabe to a large mixing bowl and cover with a towel to keep warm.
5. Add all of the ingredients for the pine nut parmesan to a small food processor, or a mortar.
6. Blitz a few times to break the nuts into pieces and to incorporate the seasonings. If using a mortar and pestle, grind until it reaches a slightly chunky consistency (or the texture you desire). Set aside.
7. Fluff the cooked quinoa with a fork and toss into the mixing bowl with the broccoli rabe. Add the cannellini beans, lemon juice, olive oil, grated garlic (I use a microplane), dried basil, salt, and pepper.
8. Toss well to combine, and take a little taste to make sure it suites your seasoning preference.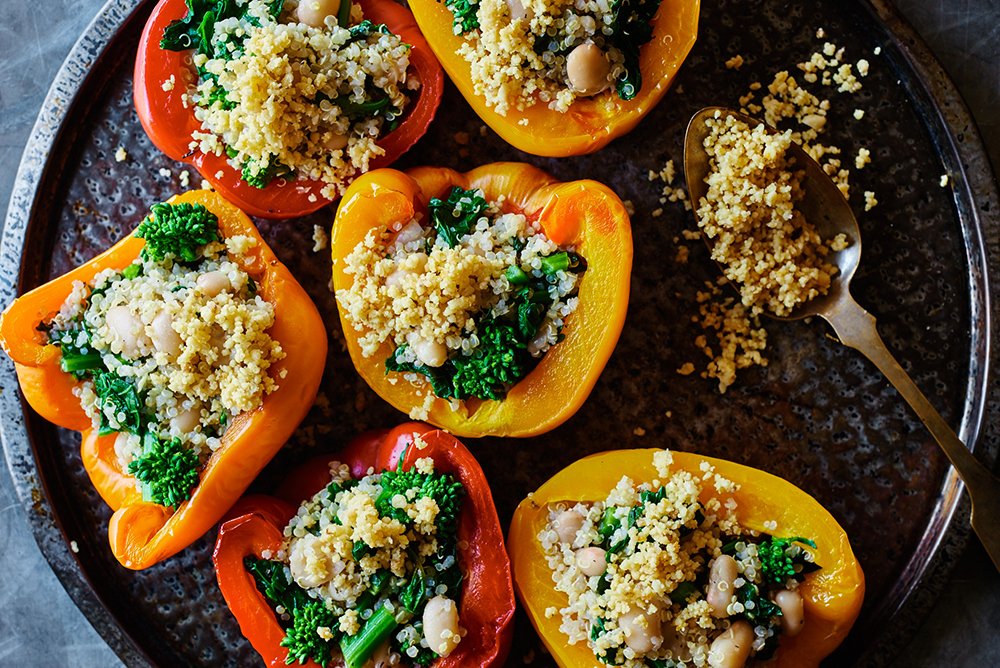 9. Divide the quinoa stuffing between the four halves of bell pepper and top with a generous spoonful of the pine nut parmesan. Enjoy right away while still warm.
Get the scoop on Broccoli Rabe: recipes, health benefits, & nutrition information. Learn more
---