Caesar Salad with Roasted Broccoli Rabe and Kale
Directions
1. Preheat the oven to 375°F. Line a baking sheet with parchment paper.
2. Arrange the broccoli rabe and tomatoes on the baking sheet. Tear a piece of aluminum foil large enough to wrap the head of garlic up. Drizzle 1 Tbsp olive oil on top of the garlic, then wrap it up and transfer to the baking sheet. 
3. Drizzle the remaining olive oil over the broccoli rabe and tomatoes. Season with salt and pepper. Transfer the baking sheet to the oven and roast until the broccoli rabe leaves are crisp and the tomatoes are blistered, 15-20 minutes (the garlic will be lightly golden and very sweet smelling). Let cool to room temperature.
4. Squeeze the garlic cloves from their skins into a medium bowl. Add the anchovies, and mash the mixture with a fork into a paste. Stir in the egg yolk, lemon juice, and mustard to combine.
5. While whisking constantly, slowly drizzle in the olive oil, mixing to make a thick, creamy dressing. Season the finished dressing with salt and pepper. 
6. In a large bowl, toss the kale and red onions together. Add the dressing and toss well to coat (you may have leftover dressing, so start with a few Tbsp at first). Add the broccoli rabe and tomatoes and toss gently to combine.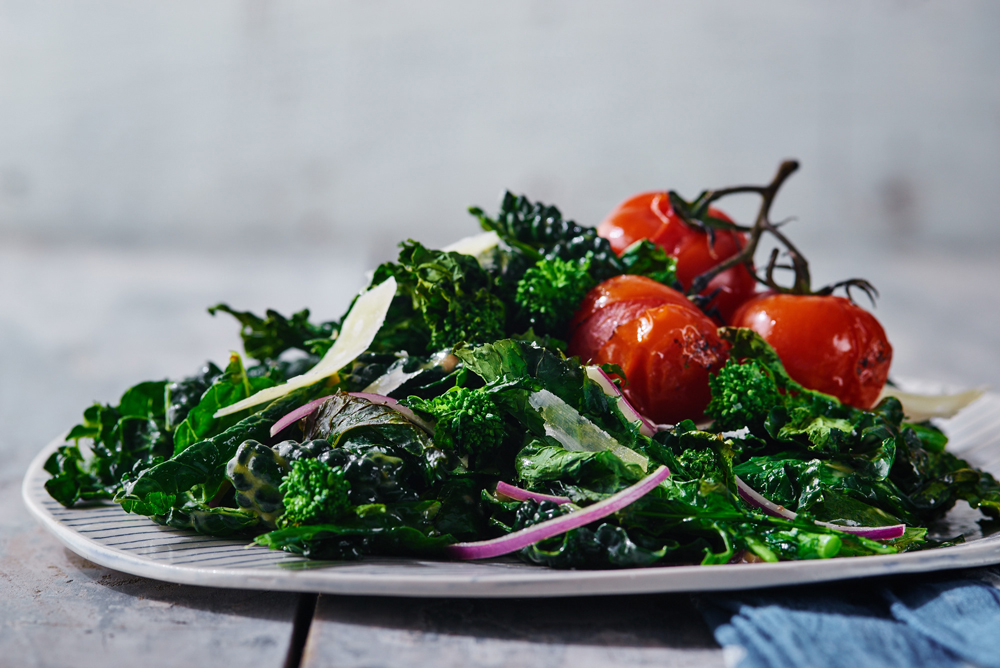 7. To serve, divide into four even portions on plates. Garnish with a few turns of fresh black pepper and parmesan curls.
Get the scoop on Broccoli Rabe: recipes, health benefits, & nutrition information. Learn more
---