Sesame Broccoli Rabe Crostini
Directions
1. Place an oven rack to the center position of your oven and preheat the oven to 350°F. Lightly brush each side of the baguette slices with the two Tbsp of olive oil and a sprinkling of salt. Place onto a baking sheet in a single layer. Bake for 15 – 20 minutes, until golden, flipping each crostini half way through the baking time. Remove from oven and let cool.
2. While the crostini are crisping in the oven, prepare the whipped goat cheese spread by combining the yogurt, goat cheese, a healthy dose of fresh ground black pepper, and salt in the bowl of a stand mixer fitted with the wire attachment (this can also be done by hand with a wire whisk).Whip the ingredients together for about one minute, until slightly fluffy. Fold in the dill and set aside.
3. Once the crostini have been removed from the oven and set aside to cool, raise the oven temperature to 425°F.
4. Cut the large stems off of the broccoli rabe, reserving just the smaller, flexible stems, the leaves, and the floret. In a medium mixing bowl, toss together the broccoli rabe, one Tbsp olive oil, and salt and pepper. Transfer the broccoli rabe to a baking sheet with a lip (to prevent any excess oil from spilling into the oven) and cook for 8 – 10 minutes, until the leaves become crispy and the stems are tender. Remove from the oven and set aside to cool. Once cool, toss with the sesame oil.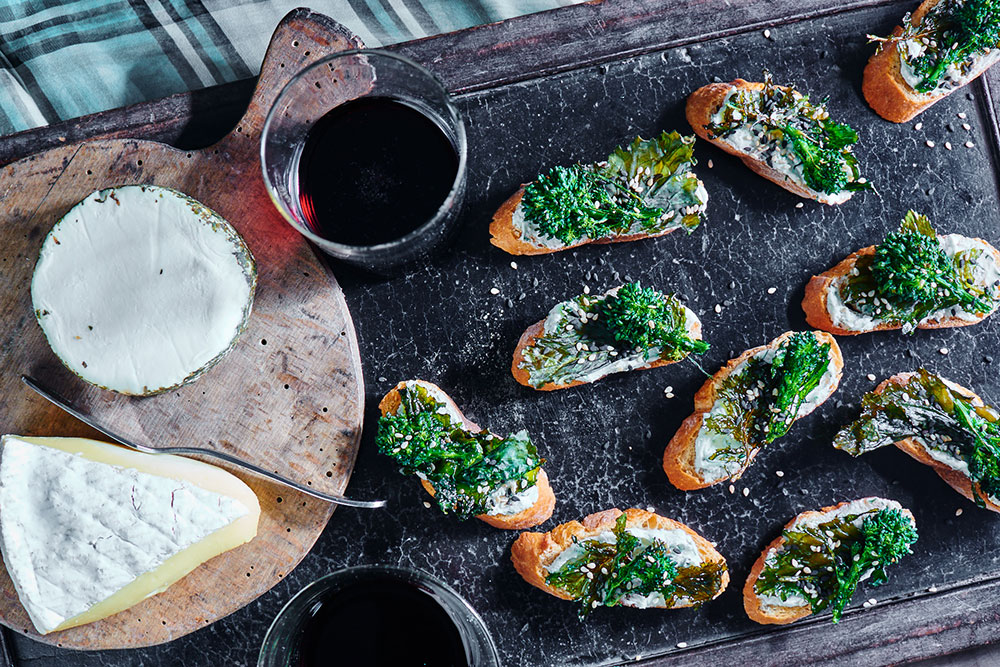 5. Build the crostini just before serving. Start by spreading a heaping tsp of goat cheese spread onto the crostini, followed by a piece of broccoli rabe and a sprinkling of toasted sesame seeds. Enjoy!
Get the scoop on Broccoli Rabe: recipes, health benefits, & nutrition information. Learn more
---