Steamed Broccoli Rabe and Crouton Salad
Directions
1. Make the dressing first. In a small bowl, whisk together the vinegar, mustard, salt, pepper, and sugar. Stir in the shallot and let the mixture macerate. Set the olive oil aside.
2. Use a large kitchen knife to trim off any discolored tips from the very bottom of the stems. Use a paring knife to peel the thick bottom stems. Separate the stems from the tops. Cut the stems into 2-inch pieces, leaving the crowns whole. Wash the greens in abundant cold water; drain. Use pre-washed broccoli rabe as is.
3. Pour water into the bottom of a vegetable steamer to just below the bottom of the steamer insert. Bring it to a boil over high heat. Put the prepared broccoli rabe in the insert and cover. Cook over high heat for 3 minutes. Transfer it to a plate and let any residual cooking water drain out.
4. Transfer the greens to a salad bowl. Pour the vinegar mixture over the greens. Dribble the olive oil over it and toss the greens with the dressing. Adjust for salt and pepper. Top with the croutons and serve warm or at room temperature.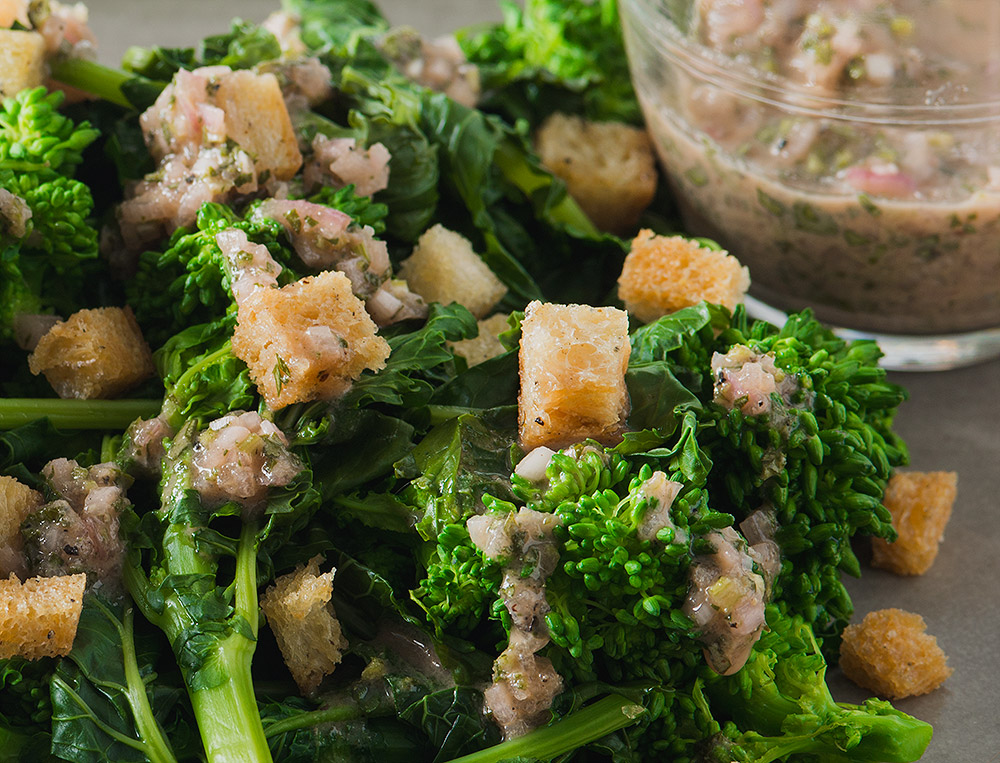 Cook's Tip: For home-made baked croutons, preheat an oven to 350 degrees F. Cut good, stale peasant-style bread into dice. Toss them with extra-virgin olive oil to cover. If you like, season them to taste with grated hard cheese or dried herbs, or both. Bake until lightly toasted, about 15 minutes.
Get the scoop on Broccoli Rabe: recipes, health benefits, & nutrition information. Learn more
---