Spicy Broccoli Rabe Butter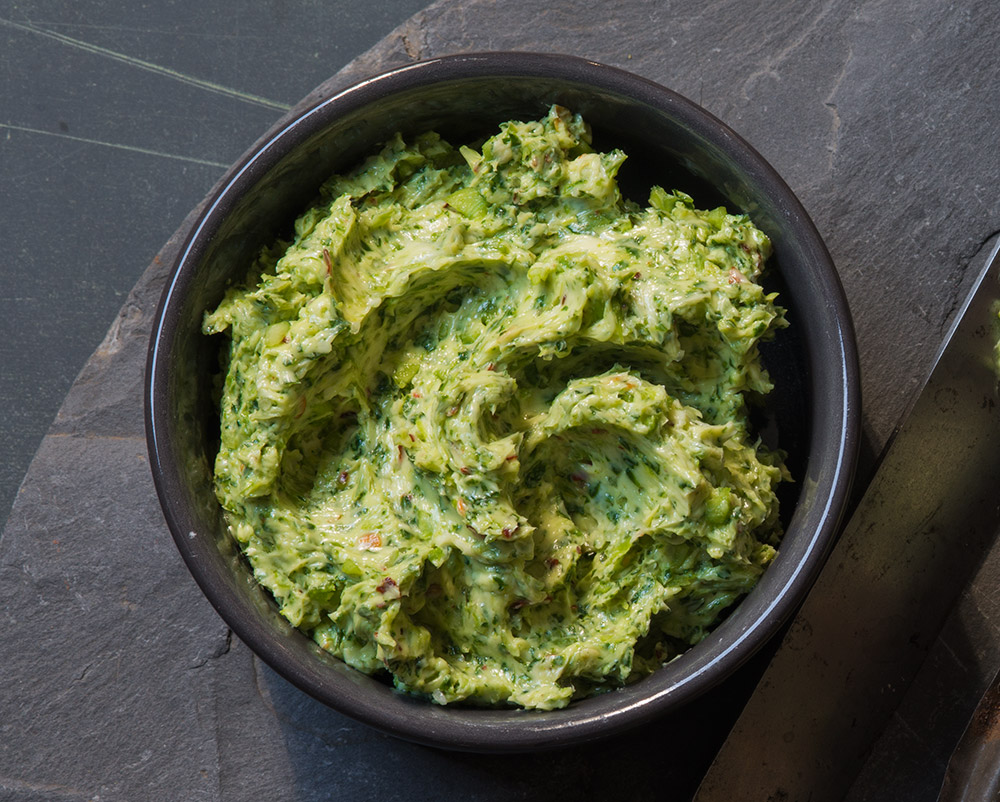 Compound butters, flavored with anything from herbs to canned tuna to blue cheese to caviar, are traditionally used for antipasti. Broccoli rabe can be used to make a gutsier version ideal for an intriguing sandwich spread, or for a condiment for steak or a hamburger. A dollop on fish adds flavor and depth. Stir it into smashed potatoes for extra flavor. The idea is to create a buttery spread, not a pesto here, so follow the directions precisely for the ideal balance of butter and greens. Don't be tempted to alter the quantities called for to utilize a whole bunch or an entire package of broccoli rabe. You will need much less; reserve the remaining greens for another recipe. And be sure to peel the broccoli rabe stems if using bunch broccoli for a creamy, not fibrous, texture to the butter.
Recipe by Julia della Croce
Julia is one of America's foremost authorities on Italian cooking. She is a James Beard Award winning author and has written over 15 cookbooks.
Ingredients
1/4 pound (1 stick) unsalted butter at room temperature but not too soft

1/2 cup finely minced broccoli rabe stems, first peeled, and/or leaves

White part of 1 small scallion, finely minced

Plenty of powdered cayenne pepper or hot red pepper flakes

Fine sea salt to taste
Directions
In a mortar or medium bowl, combine the butter, minced broccoli rabe leaves, scallion, and cayenne pepper or hot pepper flakes. Use a pestle or a sturdy wooden spoon to beat it until it is light and smooth. Season with the salt just before using.
COOK'S TIP: Broccoli rabe butter can be made up to 1 week in advance of using if covered and stored in a refrigerator. You can freeze it, covered, for up to 1 month. Season with the sea salt just before using.
Get the scoop on Broccoli Rabe: recipes, health benefits, & nutrition information. Learn more
---