Broccoli Rabe, Corn and Cheese Soufflé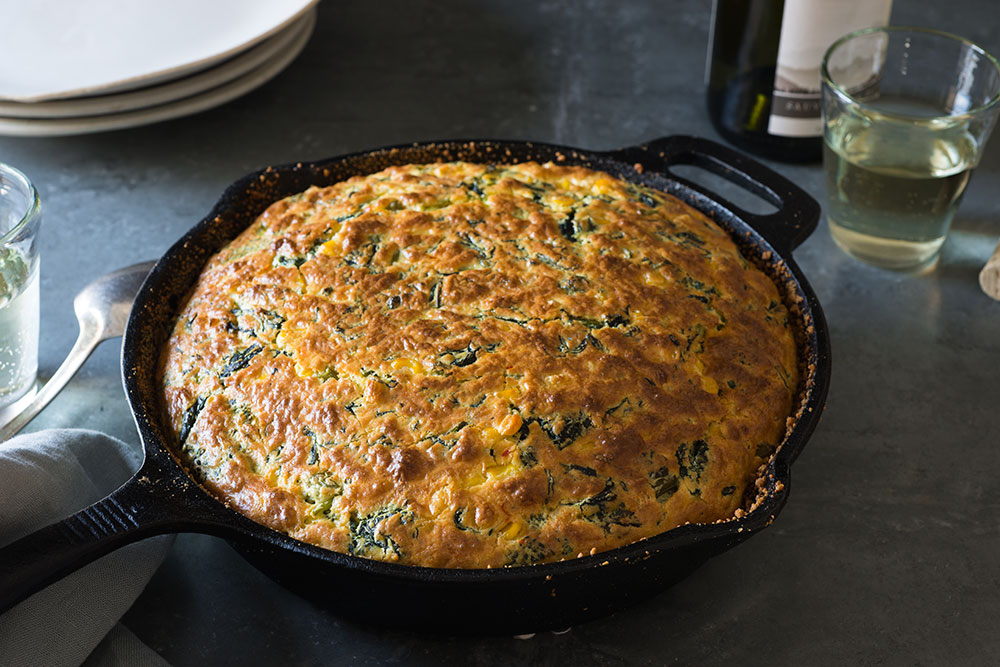 Classic soufflés are baked in tall, deep dishes that make a dramatic presentation but that method can make the process challenging. My friend and soufflé guru, baking wizard Greg Patent, takes the worry about the soufflé rising out of the equation by using a shallow baking dish, pie pan, or skillet, or small individual ramekins. The shallower baking surface allows the center to cook through without the risk of blackening the crust. Using this method, you'll find them effortless to make. You can make this festive sweet corn and broccoli rabe soufflé any time of year with frozen corn. Coating the inside of the baking pan with butter and grated cheese before pouring in the batter makes the soufflé surfaces crunchy in contrast with its silky center after it's baked.
Recipe by Julia della Croce
Julia is one of America's foremost authorities on Italian cooking. She is a James Beard Award winning author and has written over 15 cookbooks.
Ingredients
1 pound broccoli rabe

1-1/2 cups fresh corn kernels or frozen, thawed and drained

1 stick (8 tablespoons) butter, plus more for greasing pan

1/4 cup grated Parmigiano-Reggiano or Grana Padano cheese

4 ounces (1 cup) finely grated sharp Cheddar or Gruyère cheese

Small hot red pepper such as Fresno, jalapeño, or Thai, seeded and minced

3 large garlic cloves, minced

1 teaspoon fine sea salt

3/4 cup whole milk

3/4 cup half-and-half

6 tablespoons all-purpose flour

6 large eggs at room temperature, separated 1/4 teaspoons cream of tartar

EQUIPMENT NEEDED:

2-1/2 quart capacity (10 x 2-inch) round or oval baking dish, or oven-proof skillet
Directions
1. Prepare the broccoli rabe as described in "Blanching or Boiling Broccoli Rabe," cooking it for 3 minutes. Drain the broccoli rabe well after boiling and squeeze out excess water. Chop and set it aside. If using frozen corn, pat it dry with a paper towel to remove excess liquid.
2. Preheat oven to 400 degrees F. Arrange a rack on the lower third position of the oven, removing other racks. Grease the bottom and sides of the baking dish or the individual ramekins with butter. Scatter the Parmigiano-Reggiano or Grana Padano in the pan and shake to coat the bottom and sides as much as possible. Don't be concerned about gaps in coverage. Tap out excess.
3. Melt half of the butter in a medium-sized, thick-bottomed saucepan. Stir in the garlic. Immediately add the chopped broccoli rabe, corn, and minced hot pepper and cook over medium-low heat to marry flavors, stirring occasionally, 3-4 minutes. Transfer it to a strainer to cool.
4. In another small saucepan with a heavy bottom, warm the milk and half-and-half together until it begins to simmer, but don't allow it to break into a boil. Keep it warm. (Alternatively, measure out the milk into a glass measuring cup and heat it in a microwave.)
5. In another, medium-sized heavy saucepan, melt the remaining butter. Over low heat, add the flour and stir with a wooden spoon or whisk to prevent lumps from forming. Stir constantly, about 2 minutes. Do not let the mixture brown. Take the pan off the heat and add the warm milk and half-and-half, one trickle at a time until you have used up 1/2 cup, stirring constantly to blend. Return the pan to the burner over low heat and stir in the remaining milk, still at a trickle, slowly and gradually. If lumps start to appear, you are probably adding the milk too quickly. Should this happen, turn off the heat and stir, pressing the lumps against the side of the pan and continue to blend in the hot milk very gradually. When all the warm milk has been added, simmer the sauce over low heat for another 5 minutes or so, until it is very thick. Stir in 1/4 teaspoon of salt.
6. Remove the sauce from the stove and transfer it to large mixing bowl. Whisk in one egg yolk at a time. It should be tepid to warm when folding in the remaining ingredients.
7. In a bowl, beat the egg whites with a pinch of salt on medium speed until they are frothy, about 1 minute in a stand mixer, up to 2 using a hand-held mixer. Add the cream of tartar and continue to beat until soft peaks form, 1 to 2 minutes. Whisk a quarter of the whites into the sauce. Using a rubber spatula, gently fold in the rest in two batches, working carefully to combine the ingredients without deflating the whites. At last, fold in the cooled broccoli rabe, corn, and hot pepper mixture along with the Cheddar or Gruyère.
8. Transfer the batter into the prepared baking dish, using the rubber spatula to spread it. (At this point it can be covered with an upturned pot and set aside for up to an hour before baking.) Slide it onto the prepared oven rack. Bake until a puffy, golden brown crust is formed on the surface and a skewer inserted into the middle comes out clean, about 35 minutes. Serve at once. It must be piping hot.
Get the scoop on Broccoli Rabe: recipes, health benefits, & nutrition information. Learn more
---