Broccoli Rabe Kimchi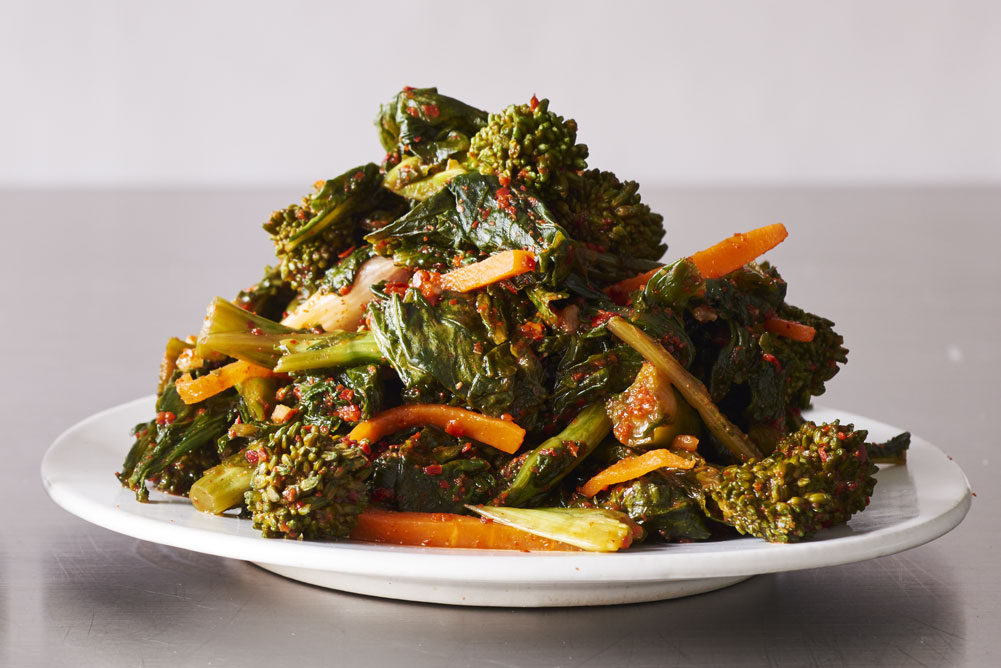 Kimchi is a spicy pickled cabbage dish popular in Korean cuisine. But we're mixing up tradition swapping broccoli rabe for cabbage. The broccoli rabe is brined and tenderized, then tossed with a spicy kochukaru sauce to finish it off.
Recipe by Stephanie Le
Stephanie is the author of "Easy Gourmet" and I am a Food Blog, which was named "Editor's Choice: Best Cooking Blog" and "Food Blog of the Year" by Saveur in 2014.
Ingredients
½ Bunch broccoli rabe

Kosher salt

4 Cloves garlic, minced

1-Inch piece of ginger, minced

¼ Cup Korean chili powder (kochukaru), or to taste

1 Tablespoon miso paste

2 Tablespoons sugar

1 Small bunch green onions, cut into 1 inch pieces

½ Cup julienned carrots
Directions
1. Cut the rabe into 1-inch pieces and place in a large bowl. Sprinkle with a generous amount of kosher salt, 1 tablespoon of sugar, and toss. Let sit for ½ hour. The purpose of salting the greens is two-fold: it acts a preservative and draws water out of the greens, tenderizing in the process.
2. While the greens are brining, combine the garlic, ginger, kochukaru, miso paste, and remaining tablespoon of sugar. It will be very thick. Thin with a bit of warm water (1 tablespoon at a time) until smooth. You're looking for the consistency of sour cream. Taste and adjust if needed. Stir in the green onions and carrots.
3. Rinse and drain the broccoli rabe. Thoroughly mix with the kochukaru paste. Taste and season with salt if necessary. Pack tightly into jars.
4. Seal tightly and refrigerate. The kimchi will be tasty right away but even better after 24 hours. It will continue to ferment for up to two weeks and keep in the fridge for up to 1 month.
Makes 2 cups. Can also be used to make Broccoli Rabe Kimchi Fried Rice.
Get the scoop on Broccoli Rabe: recipes, health benefits, & nutrition information. Learn more
---