Broccoli Rabe Mexican Skillet Breakfast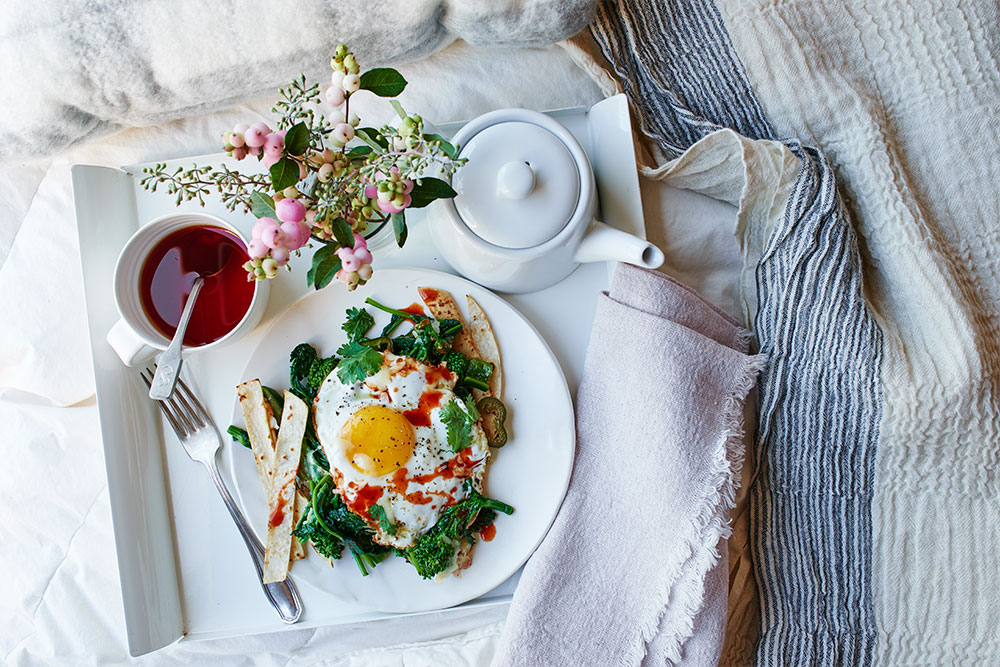 During the week, we have to admit that breakfast can be pretty basic (another yogurt bowl, anyone?), however, once the weekend hits you better believe we're going to throw down with a recipe for a nice breakfast. This broccoli rabe Mexican skillet breakfast is both extremely hearty and healthy, with the bulk of the meal being broccoli rabe that gets sautéed in a fantastic blend of spices and chilies. It gets topped off with a couple fried eggs and all of our favorite Southwestern and Mexican toppings, such as crispy tortilla strips, cilantro, cheese, and salsa before getting served family style right out of the skillet itself! Make a pot of coffee and give yourself some time this weekend morning to cook up this simple dish.
Recipe by Beau Ciolino & Matt Armato
Beau and Matt are the duo in charge of Probably This, the Better Homes & Gardens 2016 Editors' Pick for "Our Favorite Food Blog." Their recipes stand out for their beautiful photography, charming writing, and above all delicious food.
Ingredients
1 lb (about 1 bunch) broccoli rabe

1 – 2 mild chilies, chopped

1/2 hot chili (jalapeno or Serrano), minced

1 clove garlic, minced

1 Tbsp olive oil, divided in two + 1 tsp

1/2 tsp cumin

1 tsp crushed red pepper

1 pinch chili powder, optional

2 eggs, room temperature

2 (6″) corn tortillas

1/3 cup salsa verde or salsa picante

2 – 3 oz shredded white cheese such as pepper-jack or white cheddar

1 small handful fresh cilantro

Salt and fresh cracked pepper to taste
Directions
1. Fill a large mixing bowl with ice water. Set aside.
2. Begin bringing a pot of water to boil over medium-high heat (you'll want there to be just enough water to cover all of the broccoli rabe).
3. While the water is coming to a boil, bring a medium (about 10") cast iron skillet* to medium-high heat and add one tsp of olive oil. Cut the corn tortilla into long strips and place flat onto the skillet. You may need to do this in batches, adding a small drizzle of extra olive oil to the skillet between batches if your skillet is not large enough to accommodate all of the tortilla strips at once. Cook for about thirty seconds on each side – they should be browning on the edges and have a crisp texture – before transferring to a bowl. Toss with salt, pepper, and chili powder and set aside.
4. While your water is still coming to a boil, cut off the thick bottom parts of the broccoli rabe stalk and cut or tear the broccoli rabe into 2-3″ pieces. Rinse well in a colander under cold water.
5. Once your water is boiling, add the broccoli rabe and let cook for just about one minute before draining into the colander and immediately placing the broccoli rabe in the ice. water bath to halt the cooking process. Drain and pat dry the broccoli rabe. Set aside.
6. Add half a Tbsp of olive oil to the skillet and heat over medium heat. Crack the eggs into a small bowl to ensure no shells get into the skillet, and gently place the eggs into the skillet. Let cook for about 4 minutes, until the whites becomes fully cooked but the yolks are still runny. Use a spatula to gently transfer the cooked eggs from the skillet to a clean plate. Sprinkle a small pinch of salt and some fresh cracked pepper over the eggs and place in a warm spot for the remainder of the cooking process.
7. In your skillet, heat the remaining half Tbsp of olive oil over medium heat. Add the garlic, crushed red pepper, cumin, and minced hot pepper and let cook for about one minute until aromatic, stirring with a wooden spoon constantly. Add the broccoli rabe and mild chilies and sauté for 2-3 minutes, stirring occasionally. Remove from heat.
8. Top with the fried eggs, tortilla strips, shredded cheese, salsa, and cilantro. Serve family style out of the skillet with a spatula or wooden spoon.
COOK'S NOTE:
The skillet you use throughout the cooking process for this recipe should be the same one you plan to serve this dish in.
Get the scoop on Broccoli Rabe: recipes, health benefits, & nutrition information. Learn more
---