Charred Broccoli Rabe and Prosciutto Panini
Sometimes the best recipes are the ones that get the most out of just a few ingredients. And to be honest, when those ingredients are Broccoli Rabe, prosciutto, and burrata between two slices of pressed sourdough bread, you don't need too much else. For those without a panini press, there's no need to fear! A heavy skillet is all you'll need for this one.
Recipe by Alana Kysar
A Hawaii native currently residing in Los Angeles, Alana's cooking and lifestyle blog is called Fix Feast Flair. The 2015 Readers' Choice in the "Best New Voice" category at the Saveur Food Blog Awards, the page is filled with inventive recipes, envy-inspiring travel writing, and beautiful photography.
Ingredients
10 broccoli rabe stalks, trimmed

2 Tbsp kosher salt

Salt and pepper, to taste

1/4 tsp crushed aleppo chili flakes

Zest of 1/2 a lemon

1 Tbsp extra virgin olive oil

4 thin slices prosciutto, torn into strips

8 oz burrata, drained and thoroughly dried

3 Tbsp unsalted butter, softened

4 slices sourdough bread
Directions
1. Fill a medium pot with enough water to cover broccoli rabe and bring to a boil. Add 2 Tbsp kosher salt to water after it comes to a rolling boil and immediately add broccoli rabe. Blanch for 10 seconds then promptly transfer to an ice bath. Drain and thoroughly dry broccoli rabe.
2. Toss broccoli rabe with 1 Tbsp extra virgin olive oil, salt and pepper, to taste, Aleppo chili flakes, and half of the lemon zest. Set a grill pan over medium-high heat and wait for the pan to get hot. Arrange broccoli rabe on grill pan, with the grills sitting perpendicular, and cook for 4 minutes before turning and grilling the other side for 3 minutes.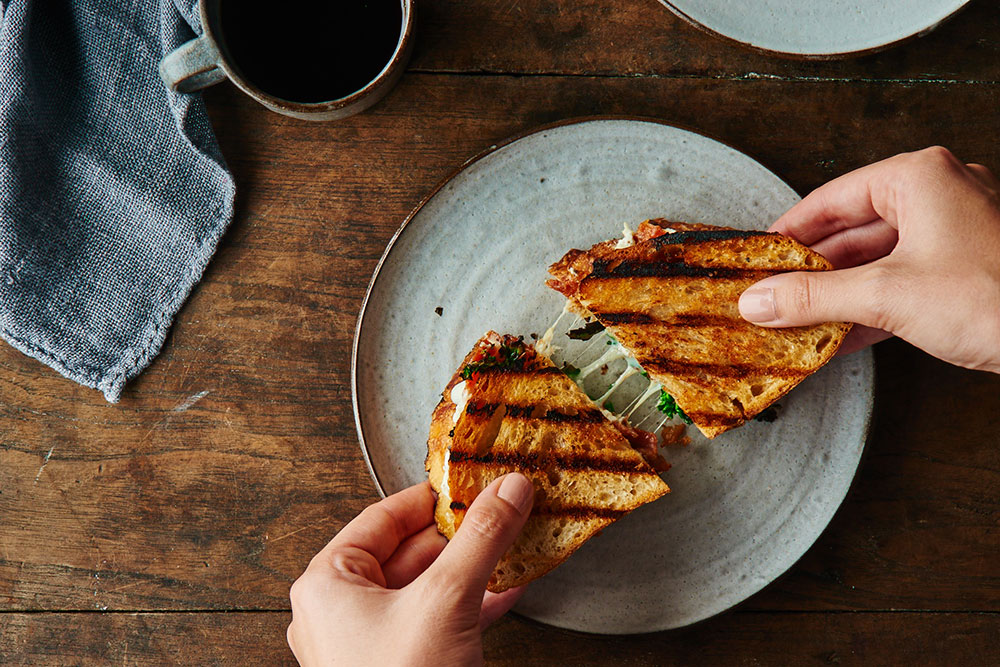 3. Transfer broccoli rabe to a sheet pan and top with remaining lemon zest.
4. In a medium skillet set over medium-high heat, place prosciutto strips and cook until crisp, around 2 minutes per side. Transfer to the sheet pan with the broccoli rabe.
5. Butter one side of each sourdough slice and reheat the grill pan over medium heat. Set two slices of sourdough, butter side down, on the grill and top each slice with exactly half of the following: burrata, broccoli rabe, and prosciutto before topping with the other two slices sourdough, butter side up.
6. Place a heavy skillet over the paninis and cook for about 2 minutes, then flip both paninis and cook for another two minutes.
7. Serve immediately.
Get the scoop on Broccoli Rabe: recipes, health benefits, & nutrition information. Learn more
---