Broccoli Rabe Pesto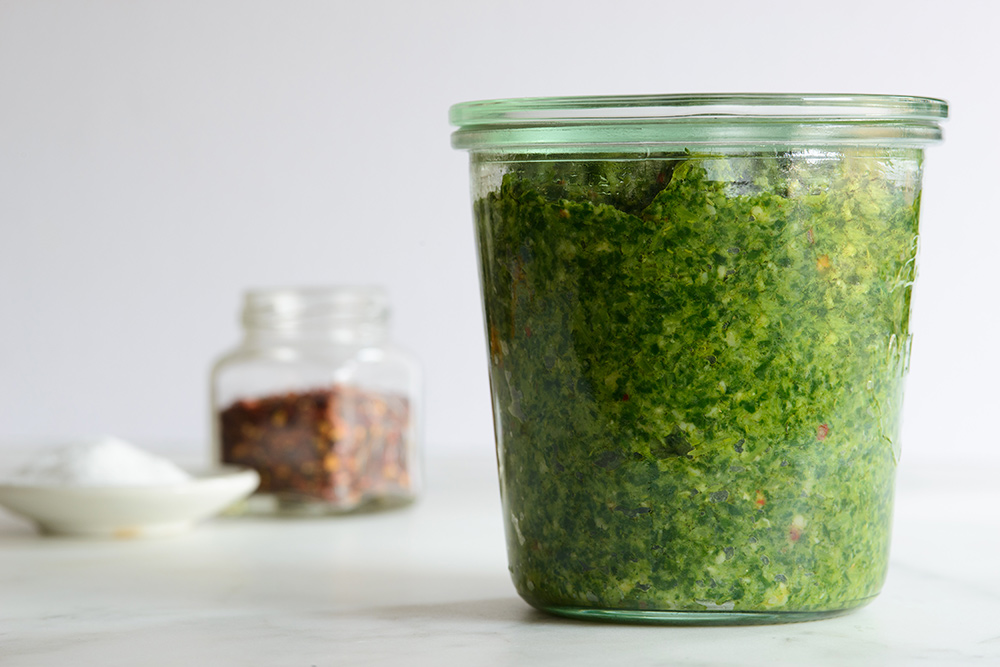 Here's a refreshing change from the usual basil pesto, a new version, made with broccoli rabe. Its cooked stems contribute body and natural creaminess, making it unnecessary to use as much oil as many other pestos call for. As a result, it's lighter, more nutritious, and has a lower calorie count. The aged pecorino from sheep's milk imparts the tanginess we are looking for when using it as a zesty sauce for dried pasta. If you like, you can add almonds for more complex flavor and a heartier texture. Besides pasta, think of this pesto for coating steamy, freshly boiled potatoes or for topping fish (just leave out the grated cheese).
Recipe by Julia della Croce
Julia is one of America's foremost authorities on Italian cooking. She is a James Beard Award winning author and has written over 15 cookbooks.
Ingredients
1 bunch broccoli rabe

1 Tbsp kosher salt for cooking water

1/4 cup good extra-virgin olive oil, plus additional for dressing

1/3 cup blanched, slivered almonds, lightly toasted (optional)

1 medium clove garlic, minced or shaved

big pinch hot red pepper flakes, or to taste (optional)

fine sea salt to taste

1/2 cup freshly grated aged and tangy Italian sheep cheese such as Pecorino Romano plus additional for sprinkling at the table
Directions
1. Fill a pot with enough water to cover the greens and bring to a rolling boil.
2. Meanwhile, trim off any discolored tips from the bottom of the broccoli rabe and use a paring knife to peel the skin off the thicker stems. Sever all the stems from the crowns. Wash the greens in abundant cold water.
3. To the boiling water, add the kosher salt and the 3 tablespoons olive oil, followed by the broccoli rabe. Cook over high heat until the broccoli rabe is tender but firm, a total of 8 minutes.
4. Use a mesh strainer to lift the broccoli rabe out of the pot and transfer them to a colander; save the cooking water. Drain well, pressing to release excess water. They should be moist but not wet.
5. Coarsely grind the almonds, if using; the garlic, and pepper flakes, if using, in a food processor, 10-15 seconds. Add the drained broccoli rabe and 1/4 cup olive oil; pulse to puree until the broccoli rabe is creamy but still have some texture. Check for salt. Transfer the pesto to a bowl and while it is still warm, fold in the grated cheese.
TO STORE THE PESTO: To freeze, proceed to step 3 but don't add in the grated cheese. Allow the pesto to cool and store it in a freeze-proof container. To use, thaw in the refrigerator and bring the pesto to room temperature. There is no need to reheat it if tossing with piping hot pasta.
Get the scoop on Broccoli Rabe: recipes, health benefits, & nutrition information. Learn more
---