Empanadas with Broccoli Rabe and Fennel Sausage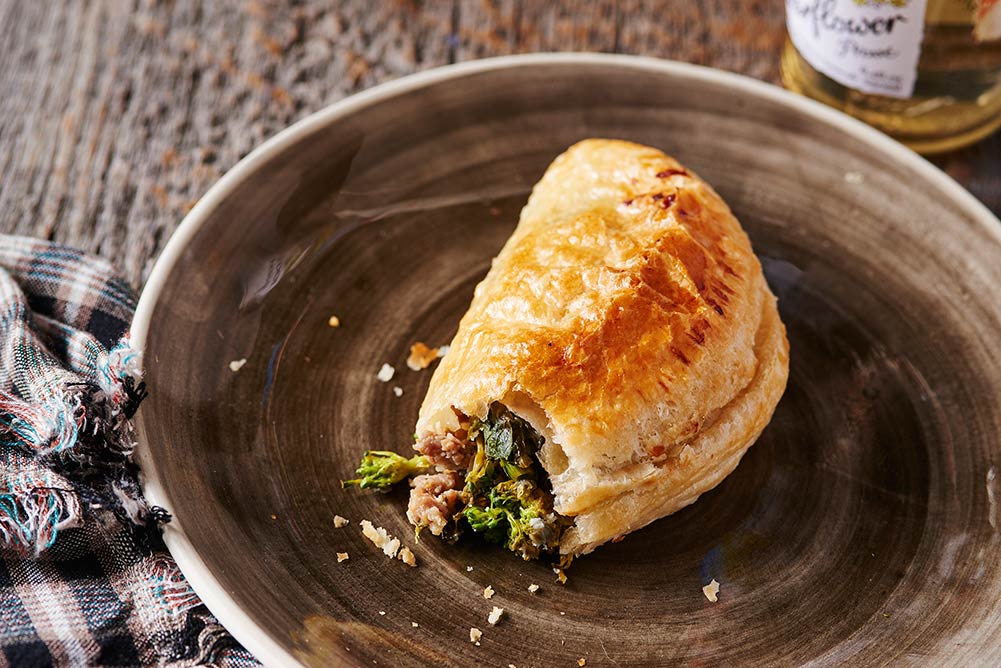 Empanadas are savory pastries filled with meats, cheeses, and vegetables. Ours is Italian-style stuffed with broccoli rabe, fennel sausage, onions, and Asiago cheese. Flavor-packed in every delicious bite.
Recipe by Julia della Croce
Julia is one of America's foremost authorities on Italian cooking. She is a James Beard Award winning author and has written over 15 cookbooks.
Ingredients
½ lb broccoli rabe

kosher salt

2 Tbsp good extra-virgin olive oil

½ tsp fennel seeds

1 medium onion, minced

1 lb sweet Italian pork sausage, casings removed and crumbled

fine sea salt

freshly milled black or white pepper to taste

enough home-made pie crust dough for four 10-inch disks or, two 14-ounce packages good quality frozen puff pastry, thawed according to package directions

1 egg yolk blended with 1 Tbsp milk

4 oz young, semi-soft sheep cheese or young (soft) Asiago, thinly sliced
Directions
1. If using bunch broccoli rabe, trim off any discolored tips from the bottom of the stems. Sever the stems from the tops and cut them into 2-inch lengths while leaving the buds whole. Wash the greens in abundant cold water. Use pre-washed bag broccoli rabe as is.
2. In large stock pot, bring 6 quarts water a rolling boil. Add the broccoli rabe and 3 tablespoons kosher salt and cook for 2½ minutes. Place a large mixing bowl next to the burner. Use the strainer to lift the greens out all at once and set the strainer over the bowl to allow the greens to drain well and cool.
3. Warm the fennel seeds in a small heavy skillet over medium-low heat until they are fragrant, about 2 minutes; cool and pulverize them in a spice grinder or mortar and pestle.
4. In the meanwhile, in an ample skillet, warm the olive oil over medium heat. Add the onion and sauté gently until it is limp, 4–5 minutes. Stir in the fennel and the sausage meat. Continue to sauté until it the meat is lightly browned, 6–7 minutes. Check for salt and add pepper to taste. Transfer the mixture to another sieve or colander and allow excess fat to drain and the meat to cool.
5. While the meat is cooling, preheat oven to 425°F.
6. If using home-made dough, roll it out into four 10- to 11-inch disks about 1/16-inch thick. Using a long, sharp knife cut each disk into quarters to make sixteen quadrant-shaped sections; brush some of the egg-milk mixture along the borders of eight of them. Place a tablespoon of the cooled sausage mixture in the center of each egg-painted section, leaving a 1-inch border all around. Place a tablespoon or so of the cooled broccoli rabe over the sausage. Top with a slice of the cheese no wider than the area of the filling. Top the remaining eight pastry sections. Crimp the edges with a fork to seal the little pies securely. Brush the surface of each with the remaining egg wash. Use a fork to prick the dough to allow steam to escape. (If you are using a prepared puff pastry, divide it into sixteen equal rectangles and follow the directions above.)
7. Slide the hand pies onto the middle rack of the preheated oven until golden brown, 15–20 minutes. Remove to a rack and allow to settle for 5 minutes. Serve hot or warm.
Get the scoop on Broccoli Rabe: recipes, health benefits, & nutrition information. Learn more
---