Roasted Broccoli Rabe Bowl with Lemon Vinaigrette and Grilled Chicken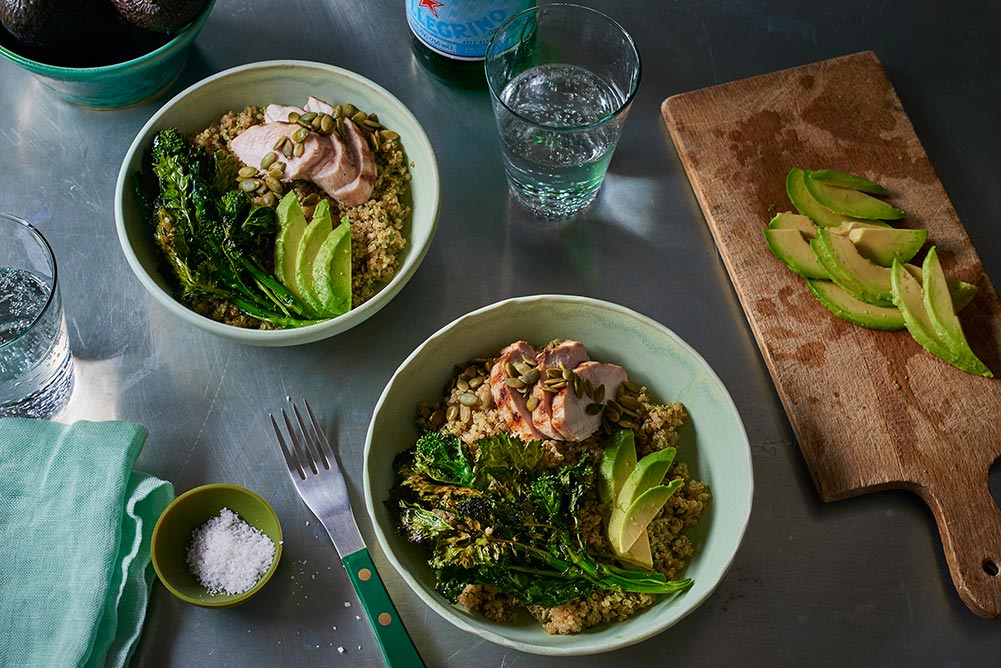 The zippy lemon vinaigrette, which actually tiptoes to the line of being a pesto, adds a brightness that meets the natural bitterness of broccoli rabe beautifully. In the oven the broccoli rabe crisps and sweetens before it blends with quinoa to create a hearty and very nutritious meal.
Top the bowl with roasted pumpkin seeds, creamy avocado, and thinly sliced grilled chicken.
Recipe by Ashley Rodriguez
Ashley is the author of Date Night In: More than 120 Recipes to Nourish Your Relationship and Not Without Salt, which was named the "Best Cooking Blog of 2013" by Saveur.
Ingredients
Dressing
½ Cup roasted pumpkin seeds + more for serving

1 Cup fresh basil leaves

Zest and juice from one lemon

Salt and pepper

⅓ Cup extra virgin olive oil
Quinoa
¾ Cup quinoa

1½ Cups chicken stock

¼ Teaspoon salt
Broccoli Rabe
½ Bunch broccoli rabe, bottom 2 inches removed and cut into 1 inch pieces

3 Tablespoons olive oil

Salt and pepper
For serving
1 Large chicken breast seasoned with salt and pepper and grilled, thinly sliced

1 Avocado

Pepitas
Directions
1. In a small saucepan combine the quinoa and chicken stock. Bring to a simmer, cover, then cook, over low heat, for 13–15 minutes until the quinoa is just cooked. Remove the lid, fluff with a fork and set aside until ready to use. You can use the quinoa warm or at room temperature.
2. Prepare the dressing by combining the pumpkin seeds, basil, lemon zest and juice, oil, and a pinch of salt and pepper in a blender. Blend until completely combined. The dressing will be thick and almost like a pesto. Taste and add more salt if you'd like. It should taste very bright and lemony.
3. Preheat your oven to 425°F. Add the broccoli rabe to a sheet tray and toss with the olive oil and a hefty pinch of salt and pepper. Toss very well to combine. Roast in the oven for 15–20 minutes or until the broccoli rabe is charred in parts and the stems are tender.
4. In a large bowl toss together the broccoli rabe, quinoa, and lemon vinaigrette. Taste and adjust seasonings to your liking.
5. Divide the quinoa between four bowls and top the bowls with sliced avocados, grilled chicken, and more pumpkin seeds.
Served warm or at room temperature. Kept covered in the refrigerator this salad will keep for up to 1 week.
Get the scoop on Broccoli Rabe: recipes, health benefits, & nutrition information. Learn more
---