Seasons Greetings to You and Yours
---
The ho-ho-ho-lidays are the busiest times of the year, full of merrymaking, fun festivities, delicious dishes and candy cane cocktails. From small bites to hearty soups and filling entrees, we have the best Christmas recipes to make your holiday sparkle.
---
Sesame Broccoli Rabe Crostini
I think that we can all agree that everything is tastier on toast. These vibrantly green and festive Sesame Broccoli Rabe Crostini are a delicious, easy to make and pretty dang healthy treat to bring to your next holiday gathering! Click here for full recipe. 
---
Crispy Broccoli Rabe and Goat Cheese Cigars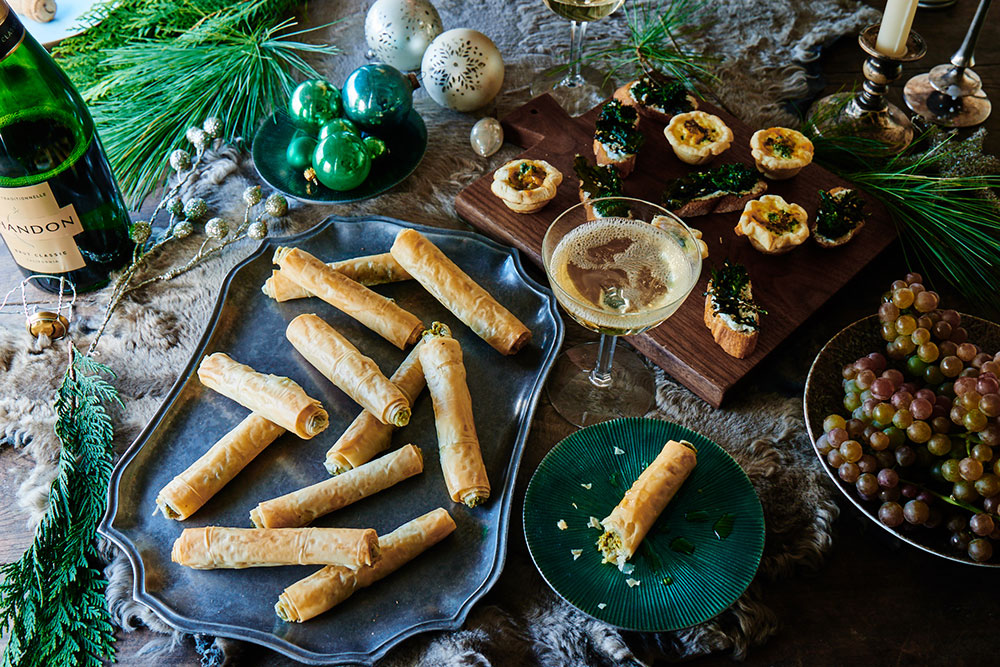 Are you looking for an appetizer that is flavorful, full of great texture, and sure to make your guests jingle all the way? Look no further: these "cigars" are crispy on the outside and warm and gooey on the inside. Plenty of other flavors (orange zest, fresh herbs, melted leeks….mhmmm!) make this appetizer perfectly party worthy. Best of all, they can be made ahead, frozen, and baked straight from the freezer, adding a little ease to a time of year that can be all-too busy! Click here for full recipe.
---
Broccoli Rabe and Farro Stuffed Mushrooms
These perfectly portioned single-bite buttons are fabulous finger foods to serve at your holiday soirée. Plus, they are so easy to make, you can prepare them early in the day and quickly warm up prior to guests arriving. Click here for full recipe.
---
Arancini di Riso with Broccoli Rabe
Arancini are Sicilian rice balls stuffed with cheese, coated with breadcrumbs and then fried. Coated in crispy crumbs on the outside and lusciously soft on the inside, even the holiday Grinches will have trouble resisting seconds or thirds. Click here for full recipe.
---
Broccoli Rabe Tater Tots
Similar to the Arancini di Riso with Broccoli Rabe, these Broccoli Rabe Tater Tots are an equally delicious and perfect appetizer to spread holiday cheer at your next family social. Served with some tangy barbecue sauce or ketchup, kids will love them just as much as the adults. As an added bonus, they come packed with healthy nutritious broccoli rabe. Click here for full recipe.
---
Slow Cooker Meatballs with Broccoli Rabe
Bold broccoli rabe, salty cheese, and savory lean beef combine to form a magical meatball that bursts with flavor. Even better, because it's a slow-cooker recipe, you don't have to spend your whole evening cooking. Spear with pretty toothpicks for a bite-sized appetizer. Click here for full recipe.
---
Warm Broccoli Rabe, Artichoke and Oka Cheese Dip
Give the gift of cheesy deliciousness this Christmas. For a fancy twist on the classic artichoke dip, we've added bold broccoli rabe, creamy white beans and a mouth-watering selection of cheeses.  This luscious, cheesy and deliciously rich dip is the perfect starter for the holiday festivities. Click here for full recipe.
---
Beet, Fennel and Sweet Potato Crostini
Beet, Fennel and Sweet Potato Crostini: these are a few of our favorite things! Plentiful and simple, roasted root vegetables atop of an olive oil brushed crostini are absolutely delicious and make for a light, festive nibble. Click here for full recipe.
---
Broccoli Rabe and Fennel Pull Apart Bread
Here is the recipe that has everything and will be sure to spread joy to all who eat up. There's broccoli rabe, bread, butter, cheese, garlic and more! This pull apart bread is making spirits bright with flavor and it is great for sharing, but you might not want to. Click here for full recipe.
---
Bro

ccoli Rabe, Mus

hroom and Cheddar Mini Quiches
These adorable bitsy bites are rich in flavor and can be made ahead of time and reheated a few minutes before serving, making them an effortless addition to your holiday spread. Your guests will FA LA LA in love with these mini quiches. Click here for full recipe.
---
Broccoli Rabe Garlic Bread
Do you smell what we smell? Topped with broccoli rabe puree and red pepper flakes, Broccoli Rabe Garlic Bread presents a festive appearance alongside your holiday soup or salad. Click here for full recipe.
---
Creamy Mac and Cheese with Broccoli Rabe
'Tis the season to enjoy some hearty, feel good food. This titillating, mouth-watering macaroni and cheese makes for a seamless side for whatever is on your holiday menu. Serve fresh out of the oven for a piping hot dish that stays true to its cheesy roots while incorporating a new dimension of broccoli rabe flavor and nutrition. Click here for full recipe.
---
Broccoli Rabe Risotto
It's the most wonderful time of the year for this impressive, totally easy, and oh-so-beautiful, Broccoli Rabe Risotto! Unlike other risotto recipes, this one doesn't need to be stirred constantly, so you're free to work on other parts of the meal while it cooks. Because of this, it makes a perfect (and unexpected) holiday side dish, but works just as great as a first course or an entrée at other times of year, too. You can leave out the pancetta if you're looking for a vegetarian option. Click here for full recipe.
---
Creamy Broccoli Rabe Soup
The weather outside is frightful, but this soup is so delighful. The flavors of roasted broccoli rabe, sweet sautéed leeks and punchy cultured yogurt paired with healthy fats, whole grains, and protein make for the perfect dinner starter. Click here for full recipe.
---
Hearty Broccoli Rabe and Potato Soup
Jack Frost may be nipping at your nose, but this Hearty Broccoli Rabe Potato Soup instills nourishing comfort and warmth on the coldest of winter days. Its creamy broth is brimming with roasted broccoli rabe, potatoes and cauliflower, bringing out their natural sweetness and flavor. Topped with croutons and fresh thyme, a wonderfully filling soup adds coziness, character and deliciousness to any holiday table. Click here for full recipe.
---
Broccoli Rabe Stuffed Pork Tenderloin
If you're looking for a melt-in-your-mouth delicious pork tenderloin on Christmas dinner, we've got just the recipe for you. The bright green broccoli rabe puree center adds for a merry and bright pop of color, exuding the joy of Christmas. Click here for full recipe.
---
Broccoli Rabe Meatloaf with Bacon
Not all presents belong under the tree. Probably few things convey the comfort of the holidays more than a sizzling and aromatic meatloaf in the oven. There are as many ways of making it as there are chefs, but one thing is for sure: adding a cooked, chopped vegetable to the mixture ensures that the meat doesn't dry out during baking. Cooked broccoli rabe not only keeps the meat mixture moist and tender, but it imparts its own unique and seductive spice that settles in so nicely with red meats. The bacon adds a smoky flavor to both the meats and broccoli rabe, but even without it, the loaf is delicious. For a delicate meat mixture, use the classic Italian combination of ground veal, pork and beef. Alternatively, a blend of ground pork and beef does nicely. Serve with mashed potatoes, sautéed fennel or a side dish of rice for a delectable Christmas dinner. Click here for full recipe.
---