Seared Sesame Broccoli Rabe Banh Mi Barley Bowls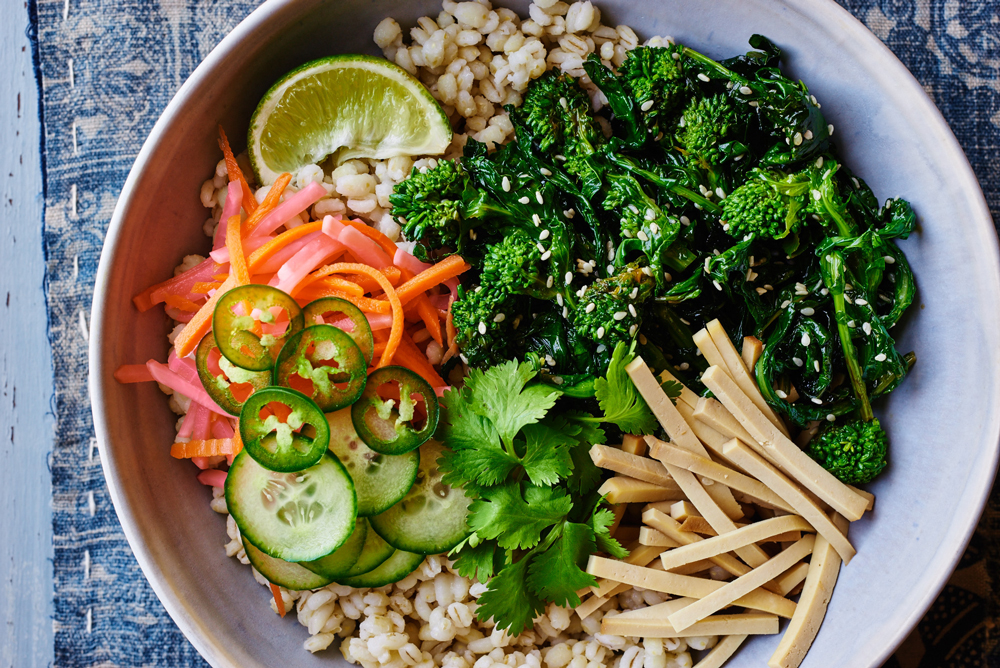 Inspired by banh mi sandwiches, this healthy vegan bowl recipe deconstructs the Vietnamese lunchtime classic for something brand new. Broccoli rabe is seasoned with sesame and seared until tender. The sturdy sesame broccoli rabe marries perfectly with zippy quick pickles, chewy barley, and smoky tofu. A little Jalapeño and sriracha give it some kick.
Recipe by Allison Day
Allison is the writer behind Yummy Beet. She is currently writing a cookbook, Modern Lunch to be available in Spring, 2019. She has two cookbooks available now: her first, Whole Bowls, and her second, Purely Pumpkin. The two books are dedicated to bowl-tastic meals and seasonal recipes, respectively. Allison took home the highest honor in Canadian food blog writing at the 2015 Taste Canada Food Writing Awards.
Ingredients
Quick Pickled Radish & Carrots with Ginger
2 cups thinly sliced radishes (from 1 large bunch)

2 large or 4 small carrots, julienned or grated

1" piece fresh ginger, peeled and thinly sliced

1 1/2 cups distilled white vinegar or unseasoned rice vinegar

1 Tbsp agave nectar

1/2 tsp salt
Barley
3 cups water

1 cup uncooked pearl barley
Seared Sesame Broccoli Rabe 
1 Tbsp untoasted (refined) sesame oil or coconut oil

1 bunch broccoli rabe, bottoms trimmed, stalks halved crosswise

1 Tbsp sesame seeds

1 Tbsp toasted sesame oil

1 Tbsp tamari or soy sauce
For Serving
Smoked tofu, cut into matchsticks

Persian or English cucumber, thinly sliced

Fresh cilantro, roughly chopped

Jalapeño, thinly sliced

tamari or soy sauce

fresh limes

sriracha
Directions
Quick Pickled Radish & Carrots with Ginger
1.  Pack radishes, carrots, and ginger into a large heatproof, sealable glass jar.
2. Add vinegar, agave, and salt to a small saucepan, bring to a boil, and pour over vegetables.
3. Tightly seal, shake, and let sit for 30 minutes (2 hours plus is best). Refrigerate for up to 1 month (they just get better as they sit).
Barley
1. Add barley and water to a medium saucepan, bring to a boil, reduce to a simmer, cover (partially cover for 5 minutes to avoid boiling over), and cook for 25 minutes, or until tender. Drain any excess water remaining.
Seared Sesame Broccoli Rabe
1. Heat a large high-sided skillet or wok over medium-high. Add untoasted sesame oil or coconut oil and broccoli rabe. Cook without stirring for 1 minute, cover, and steam for 3 to 5 minutes, tossing once or twice, until tender.
2. Stir in sesame seeds, toasted sesame oil, and tamari or soy sauce.
To Assemble
1. Add sections of barley, broccoli rabe, pickles, tofu, cucumber, cilantro, and Jalapeño.
2. Season with a spoonful or two of the pickle brine, tamari, and a squeeze of lime.
3. Serve with sriracha.
All bowl components are make-ahead and packable, so you can take it to work the next day for lunch as a sandwich.
Get the scoop on Broccoli Rabe: recipes, health benefits, & nutrition information. Learn more
---