Broccoli Rabe and Citrus Salad
Here's a bold new way of serving broccoli rabe that harks back to its Sicilian roots while adding a new twist. The simple salad may be shocking to traditionalists used to the cozy marriage of the greens with sausages or pasta, but its pungent buzz, paired with the cool slices of citrus, is so refreshing after rich dishes and fat meat. Think of it, too, as a course to spark the appetite before a meal, or for a refresher between courses. With its pleasantly sharp (the broccoli rabe) and astringent notes (the citrus), it's almost necessary to serve this salad with a cheese plate, or at least, to shave some young pecorino over the greens. Do you need any more convincing? Oh, and if history appeals, it's a trinity of Sicily's ancient crops all in one dish—broccoli rabe (that first sprouted in the volcanic ash of Mount Etna millennia ago) and blood oranges (we'll let succulent, sweet grapefruits stand in until February when they're in season), brought together with glistening olive oil.
Recipe by Julia della Croce
Julia is one of America's foremost authorities on Italian cooking. She is a James Beard Award winning author and has written over 15 cookbooks.
Ingredients
1 Bunch broccoli rabe

2 Blood oranges or 1 Red Ruby grapefruit, peeled, and piths removed

4 Ounces thinly sliced manchego or pecorino cheese

2 Tablespoons kosher salt

Good quality extra-virgin olive oil
Directions
1. Remove the largest leaves from each stalk and reserve them for some other purpose. Trim off any discolored tips from the bottom of the stems. For tender stems, use a paring knife to peel the skin from the thick, bottom stems as you would when preparing asparagus stalks. Wash in cold water.
2. Heat a pan filled with enough water to cover the greens. When it comes to a rolling boil, add the kosher salt. If you like broccoli rabe's characteristic mustardy kick, blanch the greens for no more than 10 seconds; drain at once, plunge into ice water to prevent overcooking; drain again. If you prefer a more mellow flavor and tender but firm texture, boil over medium-high heat for about 1 minute. Drain and submerge in ice water. Drain again or whirl in a salad spinner. Pat dry.
3. Slice the oranges or grapefruits crosswise into 1/8-inch-thick rounds.
4. Arrange the citrus slices on a platter, top with the broccoli rabe, and generously drizzle the best olive oil you have over it all. That's it!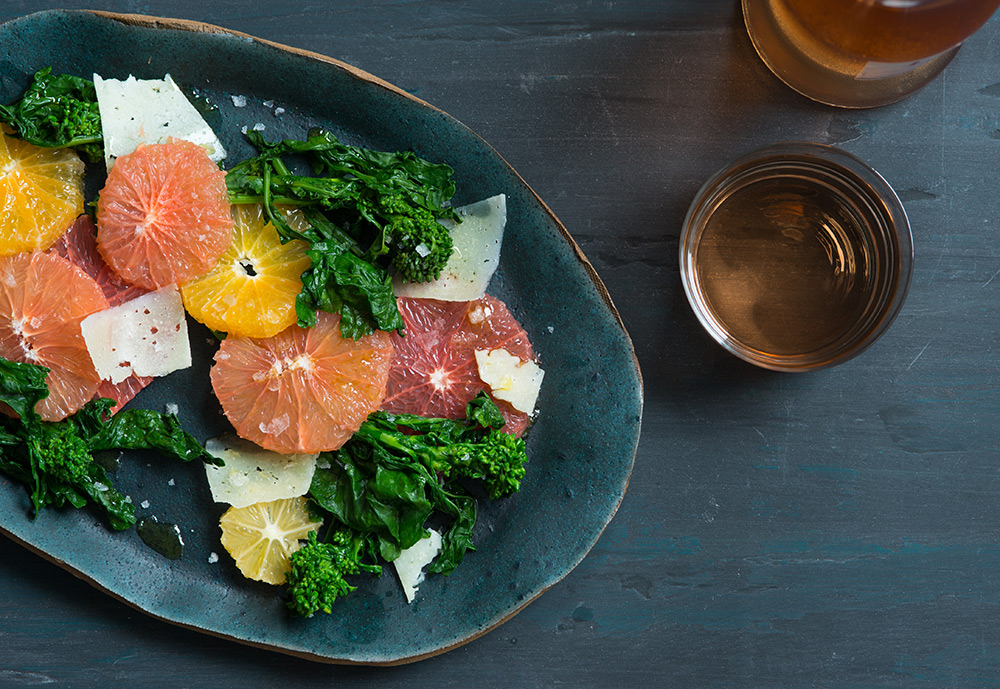 Get the scoop on Broccoli Rabe: recipes, health benefits, & nutrition information. Learn more
---